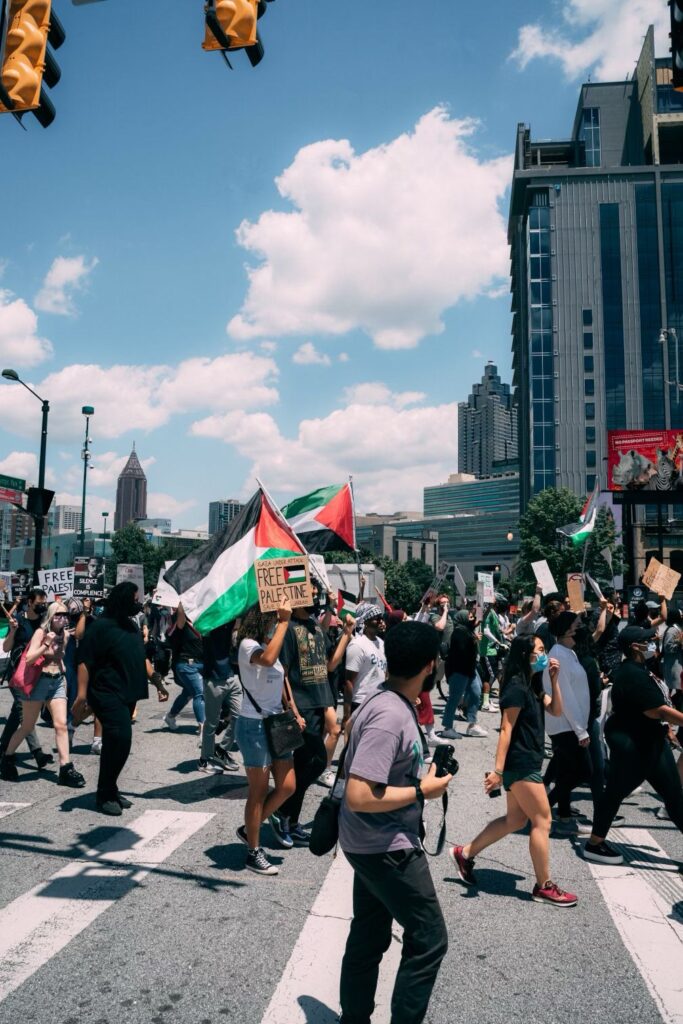 (ATLANTA, GEORGIA, 5/18/2021) – The Georgia chapter of the Council on American-Islamic Relations (CAIR-GA) today joined a coalition of Georgia-based religious, grassroots, advocacy organizations and activists in declaring solidarity with the Palestinian residents of occupied East Jerusalem and the people of Palestine.
The coalition called on the Biden administration to immediately and publicly condemn the Israeli government's plans to expel Palestinians from their homes in the Sheikh Jarrah and Al-Bustan neighborhoods of occupied East Jerusalem as well as the ongoing violent attacks on Palestinians in Gaza and East Jerusalem.
BACKGROUND: In a clear violation of international law, which prohibits forced displacement, the Israeli government plans to expel Palestinians from their ancestral homes in East Jerusalem to allow Israeli settlers to move into the previously occupied dwellings.
Israel has, for years, engaged in the forced removal of Palestinians through expulsion, demolition, and displacement in effort to establish permanent settlements throughout the occupied territories and a religious majority in Jerusalem.
These war crimes have been noted by the international community, international human rights groups and activists, and even Israeli human rights groups. The United Nations has recently advised Israel that these ongoing expulsions would violate Israel's obligations under international law.
Further, Israeli forces are actively engaged in the militaristic bombardment of Palestinian residents, protestors, and worshippers. Palestinians protesting the forced displacement continue to be threatened by Israeli settlers and police forces outside their homes.
Three hundred worshippers at al-Aqsa Mosque, one of Islam's holiest sites, were injured by Israeli forces who stormed prayers during the holy month of Ramadan. The violence intensified once more when Israel launched a fresh wave of air and ground attacks on the second night of Eid al-Fitr, killing over 100 Palestinians and injuring hundreds more, including scores of women and children.
SEE: CAIR Calls on Biden Administration to Stop Blocking UN Security Council Resolution Condemns Israel's Bombing of Gaza, Calls for Immediate Ceasefire
The coalition called on the Biden Administration and members of the Senate Foreign Relations Committee to follow the recommendations of Representatives Marie Newman (D-IL) and Mark Pocan's (D-WI) in their letter to Secretary of State Blinken that urge him to:
Immediately send the strongest possible diplomatic message to Israel to desist from its plans to demolish Palestinian homes in Al-Bustan and expel Palestinians from their homes in Sheikh Jarrah;
Publicly reiterate that U.S. policy opposes Israel's demolition of Palestinian homes in East Jerusalem and that East Jerusalem is Occupied Territory under international law;
Undertake an expeditious review of previous Congressional requests that the State Department investigate whether Israel's demolition of Palestinian homes with U.S. weapons violates the Arms Export Control Act (AECA);
If Israel proceeds with its plans to demolish Palestinian homes in Al-Bustan and evict Palestinian residents from their homes in Sheikh Jarrah, then the U.S. Embassy to Israel should send observers to document Israel's forced displacement of Palestinians, including details on the military units involved in these operations and the usage of any U.S. weapons for purposes of oversight and accountability regarding Leahy Law and AECA violations. And;
Immediately end all forms of U.S. military funding to the State of Israel.
Immediately end U.S. diplomatic support to the State of Israel (including at the United Nations Security Council).
Immediately end all attempts to ensure impunity for Israel (including through the International Criminal Court).
In addition, the coalition urges the entire Georgia congressional delegation to sign on to and support Representative McCollum's "Defending the Human Rights of Palestinian Children and Families Living Under Israeli Military Occupation Act."
CAIR-Georgia Executive Director Murtaza Khwaja said in a statement, "We call upon all our elected officials in state and national legislatures to oppose legislation that limits Americans' freedom of speech and the right to boycott entities including foreign governments.
We will not remain silent in the face of Israeli apartheid and other Israeli international rights violations. In solidarity with the Palestinian people, we call on Congress and the Biden administration to demand an end to Israel's illegal expulsions, excessive use of force, and oppression against Palestinians."
In a statement, Azadeh Shahshahani, Legal and Advocacy Director at Project South said, "The only reason that Israel can continue to commit atrocities against the Palestinian people with impunity is because of U.S. government support.
It is time for the U.S. to immediately end all forms of military support to Israel as well as stop attempts to help Israel evade accountability for war crimes."
Signatories:
CAIR Georgia
Project South
Sur Legal Collaborative
Feminist Women's Health Center
Jewish Voice for Peace – Atlanta
Sir Foundation
Voices of Muslims
MOUSA (Muslims of USA)
Helping Hand for Relief and Development- Southeast
Islamic Center Nur
Masjid Jafar
Gainesville Islamic Cultural Center
Georgia Muslim Voter Project
Al Falah Academy
Joining Hands for Justice in Palestine/Israel
Demilitarize ATL to Palestine Coalition
Palestinian Youth Movement
Black Alliance for Peace – Atlanta Chapter
Campaign Workers Guild Georgia
Greenview Madani Center
Dar Un Noor
AtlantaMuslim.com
Asian Americans Advancing Justice
Macon Unity
Reform Georgia
They See Blue Georgia
Anjali Enjeti
ICNA Council of Social Justice
Masjid Al Furqan West Cobb Islamic Center
Islamic Center of Duluth
Al Farooq Masjid
Masjid Al Hedaya
Masjid Omar bin Abdul Aziz
Golden Age
Roswell Community Masjid
Hamzah Islamic Center
Masjid Al-Momineen
ILM Academy
Muslim American Society Atlanta Chapter, Inc.
Islamic Center of Middle Georgia
Masjid Arrahman
CAIR-Georgia is the Georgia chapter of the Council on American Islamic Relations (CAIR), America's largest Muslim civil liberties and advocacy organization. Its mission is to enhance understanding of Islam, protect civil rights, promote justice and empower American Muslims.
Photo: Atlanta rally in solidarity with Palestine, May 15 2021, by Taj Roshid
END
CONTACT: Executive Director Murtaza Khwaja, [email protected], Communications and Outreach Director Azka Mahmood, [email protected]