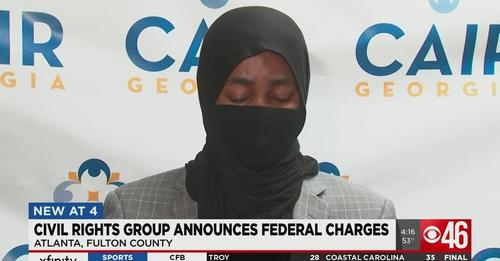 (ATLANTA, GA, 10/29/2021) — The Georgia chapter of the Council on American-Islamic Relations (CAIR-Georgia) today announced a federal charge of discrimination against Chipotle on behalf of a 19-year-old Somali-American Muslim woman, Samira Gure after she was subjected to pervasive gender, racial, and religious discrimination during her employment with the fast-food chain.
SEE NEWS CONFERENCE VIDEO: https://fb.watch/8XMP62nYx4/
The complaints originate from Chipotle Restaurant # 2775 in Tucker, Georgia. Over the years 2018 – 2021, Gure suffered several instances of discrimination and harassment; she was led to believe she had consumed alcohol against her religious beliefs, persistently asked question about the activities of known terrorist groups, harassed for dressing modestly, and ridiculed for her Somali heritage, among other things. When Gure reported these incidents to her supervisors, Chipotle management failed to take them seriously or hold her harassers accountable.
In a statement, Samira Gure said:
"It is unacceptable that Chipotle treated me this way, and I pray that they take my claims seriously. I am telling my story today so that Chipotle can answer for their work environment that targets people like me and work to rectify the harm that I endured."
In August, a manager at a Chipotle in Kansas allegedly ripped off a Muslim employee's headscarf. In Florida, there was pervasive sexual harassment at another Chipotle store, for which Chipotle was ordered to pay $70,000 in damages.
SEE: https://www.cair.com/…/cair-kansas-update-chipotle…/
CAIR-Georgia Staff Attorney Nicole Fauster said in a statement:
"What Samira detailed to us today is tantamount to discrimination in the form of a hostile work environment in violation of Title VII of the Civil Rights Act of 1964. What she articulated is far from petty slights or annoyances. These are egregious violations of her person, religion, ethnicity, gender, and race.
"We call on Chipotle to do the right thing by first acknowledging and remedying the injustice Samira Gure faced and then instituting better anti-discrimination training mechanisms."
CAIR-Georgia has filed a complaint against Chipotle at the Equal Employment Opportunity Commission (EEOC) on behalf of Samira Gure. The EEOC has launched an investigation into the matter.
The Washington-based civil rights organization offers a booklet, called "An Employer's Guide to Islamic Religious Practices," to help employers gain a better understanding of Islam and Muslims in the workplace.
CAIR: An Employers Guide to Islamic Religious Practices https://www.cair.com/…/An-Employer%E2%80%99s-Guide-to…
CAIR's mission is to protect civil rights, enhance the understanding of Islam, promote justice, and empower American Muslims.