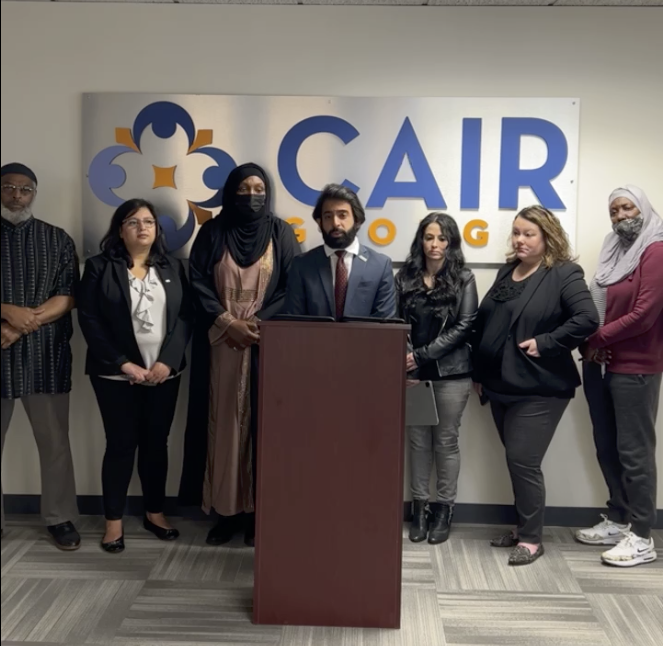 (ATLANTA, GA, 4/19/2022) – The national office and Georgia chapter of the Council on American-Islamic Relations (CAIR) today held a news conference in Atlanta, Ga., to announce the filing of a lawsuit against DeKalb County Jail for repeatedly denying the provision of timely Ramadan meals to Muslims, essentially forcing inmates to choose between starving or violating the Ramadan fast.
WATCH THE CAIR-GA NEWS CONFERENCE.
READ THE FILINGS:
Over the past 14 days, CAIR-Georgia contacted DeKalb County Jail staff, the chaplain, and the sheriff to intervene and provide timely Halal meals to Muslim detainees to no avail.
At today's news conference, CAIR National Litigation Director Lena Masri said:
"This lawsuit is about basic human decency. It's about treating Muslim detainees with respect for their basic dignity and value as human beings. It's about living in a civilized society where basic human rights are respected."
NOTE: "Halal" is the Arabic word for foods allowed under Islamic dietary laws, which are similar to those used to produce kosher products for the Jewish community. Both Muslims and Jews are not permitted to consume pork products.
During Ramadan, Muslims fast from break of dawn to sunset, abstaining from food and drink. Muslims eat a breakfast meal (called suhoor) before dawn. Prisons and jails across the nation normally accommodate fasting inmates by providing specially-timed meals early in the morning and at sunset.
CAIR-Georgia Legal and Policy Director Javeria Jamil said today:
"Over the past 18 days (of Ramadan), Mr. Simmonds and other Muslims in his unit have received their pre-dawn meal on time only 3 to 4 times…Similarly, the evening meal has never been delivered on time, except once. Mr. Simmonds and other Muslims in his unit have consistently been getting their meals between 9:30 and 11:30 pm. On at least two nights, Mr. Simmonds was not given any food at all."
Jamil added: "At this point, DeKalb County Jail is basically starving Muslims and asking them to choose between their religion and sustenance."
In a statement, CAIR-Georgia Executive Director Murtaza Khwaja said:
"For too long, our nation has treated incarcerees as second class citizenry, particularly our Black and immigrant brothers and sisters. This episode is just the latest chapter of a centuries long crusade to rob the dignity of Black and brown bodies by denying them their most basic rights and freedoms."
"Yes, DeKalb County must change and accommodate basic religious practices including Muslim incaracerees fasting during Ramadan. But truly, our nation demands transformational change in recognizing the humanity of those that have been or continue to be ensnared by our prisons and jails," Khwaja added.
CAIR-Georgia's mission is to protect civil rights, promote justice, empower American Muslims, and enhance the understanding of Islam.
END
CONTACT: Javeria Jamil, Legal and Policy Director CAIR-Georgia, [email protected]; Murtaza Khwaja, Executive Director CAIR-Georgia, 404 432 8847, [email protected]; CAIR National Litigation Director Lena Masri, 202 642 4934, [email protected]